Education subgroup
Leaders: Victoria Navarro (Spain), Meghna Jani (United Kingdom)
Members: Sofia Ramiro (Portugal, Netherlands), Felice Rivellese (Italy, United Kingdom), Marcin Milchert (Poland), Tania Santiago (Portugal), Marloes van Onna (The Netherlands)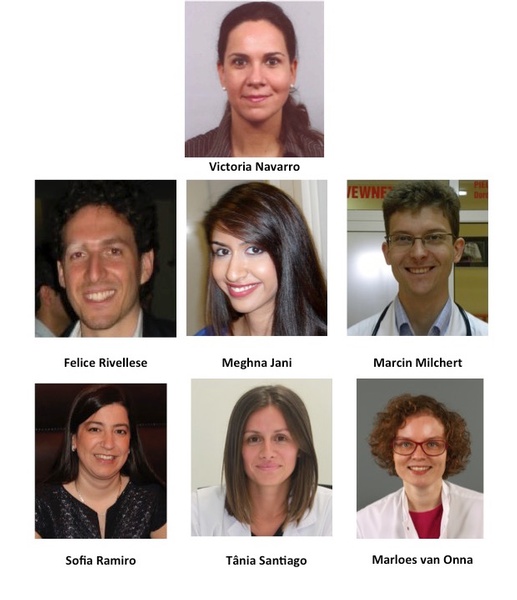 Aim of the Education Subgroup is to improve the clinical and scientific know-how amongst young rheumatologists/researchers (trainees and specialists included, < 40 years of age) working in the field of rheumatology in Europe and beyond.
When EMEUNET started its activities, a large online survey (more than 700 participants) was used to assess the educational needs of young rheumatologists and researchers.
The educational sub-group was formed to meet these needs, by providing information about existing educational programmes as well as funding opportunities (by EULAR and other organizations) and develop new educational opportunities.
Over the past years, EMEUNET has expanded and is now engaged in several educational activities, in conjunction with ESCET, the EULAR standing committee of education, and other EULAR committees.
Having a large group of young rheumatologist and scientists (> 1200 members), we are able to provide valuable information (via the means of online surveys, direct contacts with members in different countries etc.) in order to tailor the educational offer from EULAR to the real needs of young rheumatologists.
Successful ongoing projects:
EMEUNET-EULAR fellow sessions: proposing clinical and scientific sessions at the annual EULAR meetings with special interest for young attenders
EMEUNET members in EULAR recommendation committees
EMEUNET educational calendar: to inform about educational events and deadlines
EMEUNET-EULAR ambassador programme: to support 1st time attendees through

t

he annual EULAR congress.

EMEUNET/EULAR immunology course: 1st Immunology course in April 2016
New projects:
Reports from educational activities: collecting reports from previous attenders to educational activities
EMEUNET educational portfolio: to keep the informative data
European/EULAR rheumatology certificate: to harmonize training across Europe